Bachelors in USA
Highlights of Studying Bachelors in USA
More than 2000+ universities offer Bachelor's programs

Indians are top recipients of H1B - US Department of Labor

Average salary after completion of Bachelor's in USA is US $70,000

More than 250+ majors available to choose from

Over 75 streams feature in the list of Evergreen Courses

67 different specializations feature in the Bright Outlook List

Work part-time for 20 hours/week

126 STEM programmes offering 3 year PSW option

Scholarships offering upto 100% waiver available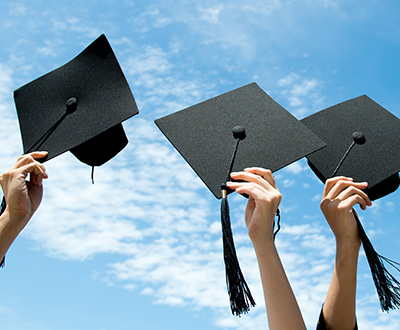 Bachelors in USA
Bachelors in USA is typically designed to be completed in four years of full-time study, although some programs for Bachelors in USA with specializations such as engineering or architecture usually take five years of regular course duration to be completed. For Bachelors in USA, some universities and colleges allow ambitious students to complete them in as little as three years. Some colleges and universities that offer Bachelors in US have a separate academic track known as a scholars programme, generally offered to the top percentile of students who are sorted based on their overall GPA. The students develop analytical thinking, critical thinking and risk assessment and uncertainty. Bachelors in USA equips students with quantitative and problem-solving skills and ensures their capability to use the same in the working world. Bachelors in USA offers more challenging courses or more individually directed seminars or research projects alongside the standardised core curriculum that is followed. Students taking up programmes for Bachelors in US are required to attend weekly tutorials, lectures and seminars. Assessments are conducted via dissertations, projects and examinations. Bachelors in USA provides graduates promising careers and financial security.
Worried about
Admission
Scholarship
Backlogs
Loan
Visa
?
Get Assistance for

Thank you for choosing us
Our experts will get back to you at the earliest
Study Bachelors in USA
There are over 2,000 colleges and universities that offer Bachelors in USA degree is typically a a four-year program in which students can study bachelors degree in USA. Annually over 1.3 million people in the United States earned Bachelors in USA. It is commonly referred to simply as a college degree, Bachelors in USA typically takes four years to complete and consists of 120-128 semester credit hours.

The four years spent to study in USA bachelors degree is known as the freshman, sophomore, junior and senior years. The curriculum of many programs to study Bachelors in USA are designed in a way where the students are required to study courses from a range of subjects to form a broad educational foundation. These general education courses include study in English composition, social sciences, humanities, history, mathematics and natural or physical sciences.

There is also an associate degree of 2 years that is designed to prepare students to transfer into a 4 year college or university. For example, you may earn an A.A. in Early Childhood Education, then transfer to a 4 year university.

Some community colleges have automatic enrollment agreements with a local college, meaning that the community college will provide the student with their first two years of study and the university provides the remaining years of study, occasionally all on one campus under a Bachelor's in USA degree.
Scope of Bachelors in USA
Considering the fact that more and more students from across the world are visiting the United States for their higher studies, the scope of Bachelors in USA is also increasing. Achieving a bachelor's degree from any one of the popular USA universities provides the greatest career opportunities After the bachelors, students gain new skills, advanced training and detailed subject knowledge and thereby increasing the Bachelors scope in USA. Job opportunities in USA after Bachelors are immense. Gaining a bachelor's degree in the USA is a matter of pride for students considering the fact that they get to serve at good positions in some of the most popular companies across the world. It is always commendable to study in USA as it offers various options for professional opportunities thus providing a wide Bachelors Scope in USA. Studying in USA will be a great option for the Indian students who always struggle to get the best quality of education.As far as the global education standards are concerned, the USA stands at the highest pinnacle where students can experience the rich cultural diversity and heritage. One's professional, personal and social growth and development can be witnessed therefore the scope of Bachelors in USA is huge. It therefore attracts the largest number of foreign students from around the world.

The top companies in USA include:
Top Companies in USA
Walmart
Amazon.com
Exxon Mobil
Apple
CVS Health
Berkshire Hathaway
UnitedHealth Group
McKesson
AT&T
AmerisourceBergen
Salary after Bachelors in USA
According to the recent surveys of linkedin and Glassdoor the noteworthy universities of the United states find a place at the top of the salary averages of recent alumni list. The average salary of Bachelors in USA for a fresher is about US $70,000 and this increases with their experience in the field. The salary after Bachelors in USA ranges from US $70,000 to US $85,000. Masters salary in USA depends on the specialisation taken. Thus, it can rightly be said that Average salary of Bachelors in USA is quite high. However, Bachelors in USA salary varies widely based upon several factors, including their major, job position, location and years of experience. The National Association of Colleges and Employers conducted a salary survey that determined the Average salary in USA after Bachelors of various bachelor's degree programs. They determined that graduates of bachelor's degree programs in computer science and engineering earned the highest starting average salary of Bachelors in USA.
Bachelors Universities in USA
Bachelors Universities in USA are among the most prestigious universities and colleges in the world. The Bachelors colleges in USA are internationally renowned for top business schools, medical schools and engineering schools. The international students in the US can select from a huge variety of Bachelor's degrees offered by top bachelors universities in USA. The US boasts of being an excellent democracy with a long standing reputation of being a global leader in almost every field, be it television or sports. Each of its individual states contain its own history and the diversity is unparalleled. The holistic development gave rise to the best universities and the Bachelors Colleges in USA tend to be the finest in the world. Therefore, international students from all over the world look to study in the best Bachelors universities in USA. Being a student brings you in contact with the top-ranked and largest universities in the world, and they are ready to welcome students like you every year.

You could check out the list of universities in USA for Bachelors given below and contact our seasoned experts who will guide you thoroughly on it
Bachelors Universities in USA
Princeton University
Harvard University
Columbia University in the City of New York
Yale University
Massachusetts Institute of Technology
University of Chicago
University of Pennsylvania
Stanford University
Northwestern University
Duke University
Top universities in USA for Bachelors
The US offers a very diverse range of higher education options compared to any other country and therefore it is home to top universities in USA for bachelors. With such wide options that are offered in top Bachelors universities in USA for learning opportunities, no matter what your ability or ambitions are, there will be some perfect course for you. Universities in USA for Bachelors even customize a few of their courses for international students as well. The top universities for bachelors in USA help you in your networking as it is an important part of every career and finding the right connections leads to further growth in career. Those who have international living or work experience and are multilingual will have a huge advantage over other people in the job market when studying in the top US universities for Bachelors. The chances of you coming across extremely well-known names in the industry are very high. US universities dominate the lists of the best universities in the world and the university rankings are clearly indicative of the fact.

The sheer number of accredited universities the US higher education system offers can be astounding and according to the Association of American Colleges and Universities, there are 2,613 accredited four-year colleges and universities. Below is a list of top universities for Bachelors in USA.
Top Universities in USA for Bachelors
Princeton University
Harvard University
Columbia University in the City of New York
Yale University
Massachusetts Institute of Technology
University of Chicago
University of Pennsylvania
Stanford University
Northwestern University
Duke University
Best universities in USA for Bachelors
The best universities in USA for Bachelors provide various courses with a unique specialization that offers a unique approach to enhance the academic experience of the students. The main motive of the best bachelors universities in USA and the best colleges for Bachelors in USA is to equip the graduates with all the necessary tools to become successful in their chosen field. Best universities for Bachelors in USA have Centers of Excellence funded by the government or corporate firms to provide complete growth of graduates in the field. The best Bachelors colleges in USA welcome students from everywhere in the world. The classes are all delivered in English, and the universities and graduate schools offer extra help and assistance to students who are travelling from other countries.

The secondary schools in the USA are divided into research universities, community colleges, liberal arts colleges, and vocational schools. These different colleges and institutions have something to offer you depending on your needs. Most commonly, however, if you're looking for an international education and best universities in USA for Bachelors, you're probably looking for a research university or a liberal arts college.

Here is the following list of best universities for Bachelors in USA and best colleges for Bachelors in USA:
Best Universities in USA for Bachelors
Princeton University
Harvard University
Columbia University in the City of New York
Yale University
Massachusetts Institute of Technology
University of Chicago
University of Pennsylvania
Stanford University
Northwestern University
Duke University
Eligibility for Bachelors in USA
The Universities in USA are very particular about the quality, intentions and dedication of the applicants and to judge the same they have set certain criteria of eligibility for bachelors in USA and the ones who meet the eligibility for Bachelors in USA are the ones to secure a seat in the various competitive universities. The Bachelors in USA requirements are decided by the department of the university to check the quantitative, verbal and analytical skills of the applicants.

Admission to bachelors in USA requirement are as below
CGPA - 12th Standard Examinations with a minimum marks of 65% and minimal history of backlogs or Diploma Certification. On a scale of 4 as per the US standards, we require at least 2.0.
SAT (Scholastic Assessment Test) - SAT is a standardized test administered by the College Board and is required to be taken by students seeking admission to undergraduate schools.
ACT (American College Testing) - It is a standardized test that is required to be taken by students looking for admission in undergraduate schools based in the US.
AP (Advanced Placement) - Advanced Placement examinations are exams offered in the United States by the College Board and are taken each May by students. The tests are the culmination of year-long Advanced Placement (AP) courses.
Statement of Purpose (SOP) - The statement of purpose is the mirror that reflects the personality of the student that he/she portrays in front of the admission committee. SOP plays an important role in the enrolment of the student. From the template to the content every small detail matters a lot and our team of well-experienced counsellors can help you frame the best SOP.
Letter of Recommendation/Reference Letters (LORs) - Letter of recommendation is a document that is drafted by your supervisor or teachers or academics heads in order to add extra merit to your application. Our team of counsellors can help you shed light on your full package that was not possible through a resume via LOR. The USA universities require three letters of recommendation as a part of the application process.
English Language Requirement - The eligibility for bachelors in USA has English test requirements, minimum IELTS requirement for bachelors in USA is 5.5 (overall) and minimum TOEFL requirements for bachelors in USA is 59 and this varies depending on the university planning to apply. Therefore one must check the bachelors in USA eligibility before applying.
US University Ranking for Bachelors
Bachelors ranking USA is getting more and more competitive, the decision of choosing the university that is the best fit for your dreams can be hard, and a US university ranking for Bachelors can act as a factor that eases decisions. The Bachelors in USA rankings are based on various factors like projected annual salary, graduation expenses, industrial exposure, degree and specialization provided, alumni feedback, etc. Bachelors in USA rankings provide the needed transparency to the students that help in choosing the university that can help them pursue their dreams.

After a detailed analysis of the various parameters, the following is the list of Bachelors in USA rankings.
| US Universities BS in USA | BS in USA Ranking |
| --- | --- |
| Princeton University | 1 |
| Harvard University | 2 |
| Columbia University in the City of New York | 3 |
| Yale University | 3 |
| Massachusetts Institute of Technology | 3 |
| University of Chicago | 6 |
| University of Pennsylvania | 6 |
| Stanford University | 6 |
| Northwestern University | 9 |
| Duke University | 10 |
Bachelors in USA fees
Bachelors in USA is usually a four-year course, and the average Bachelors in USA fees range from US $10,000 to US $30,000/year, and for 4 years, the expense will be four times. Bachelors in USA cost is exclusive of the cost of living, educational supplies, medical insurance, food, etc. and these payments are to be made additionally. Bachelors in USA cost is affected by your lifestyle and personal expenses to a large extent. Bachelors in USA fees are subject to change depending on the ranking and the location of the university.
Bachelors in USA scholarships
Bachelors in USA Scholarships helps distinguished and worthy candidates by either reducing or completely waving off the tuition cost. The university determines which student receives the scholarship after analysing their profile and having a complete background check using the statement of purpose, recommendation letters, experience and academic credentials. Bachelors in USA Scholarships helps the international students to receive funding after being recommended by the academic department/programs and distinguished fellowship committee. The students willing to receive scholarships are supposed to strictly adhere to the deadlines. Types of Scholarships for Bachelors in USA or financial aid that is given to international students are below
Merit Scholarships - Merit scholarships are awarded to students with outstanding credentials in their school certificate degree. Each application cycle, merit scholarships are offered to a number of applicants, even international students. Merit scholarships are applicable to those who have an admittance to the respective university. The scholarships range from 5% to even 100% waiver based on the profile.
Need Based Scholarships - These are awarded to students who have a financial need. Students qualify for need-based scholarships based on their family's income. Universities which offer need-based scholarships also take into account an applicant's grades and test scores. Students can find need-based scholarships from companies, organizations, and colleges.
Tuition fee waiver/discounts - The most common international scholarships offered by universities are the scholarships in the form of full or partial tuition fee waivers. This means that the student does not have to pay the amount waived on tuition part at the university. Most of the Universities will give you a 2/3 tuition waiver if you are offered a waiver. However, general fees for the use of university facilities like the library, computers, and sports and health services usually have to be paid by the student.
In-state tuition fee - Nationals pay the Instate tuition fee whereas the International students pay almost double the tuition fee. International students are also eligible for the Instate tuition fee waiver if they have a good academic score and usually universities make a decision for an in-state tuition fee.
Bachelors in USA for international students
The recent increase in demand in various fields and the incapability to meet these demands has increased the demand for Bachelors in the USA. Bachelors in USA for Indian Students provides a life-changing experience of working with a diverse community and also includes exposure to industry and the real work world. Bachelors in USA for international students is a pathway to a globally recognized career with financial stability. Bachelors in USA for Indian students serves as a track towards a promising career and reputation in the desired field. Bachelors in USA for international students is a desirable option because of its adaptable tradition, lifestyle, and promising future.
Bachelors in USA without SAT or ACT
The SAT is an entrance exam used by most colleges and universities to make admissions decisions in USA. The SAT is a multiple-choice, pencil-and-paper test created and administered by the College Board. However there are certain Bachelors in USA without SAT in top universities too. Similar to SAT is ACT and there are universities that give Bachelors for USA without ACT too. The purpose of the SAT is to measure a high school student's readiness for college, and provide colleges with one common data point that can be used to compare all applicants. You can look into the institutions that provide bachelors in USA without SAT as usually one will search for the Bachelors in USA SAT score.
Worried about
Admission
Scholarship
Backlogs
Loan
Visa
?
Get Assistance for

Thank you for choosing us
Our experts will get back to you at the earliest